Spring 2017 Quilt Market Information
---
Happy 20th Birthday FabShop!

Join us Wednesday, May 17th!

CHANGE in FabShop's Dinner Location! We are no longer going on a cruise. The weather just isn't easing up. Due to high river levels we needed to jump on plan B. Our Birthday Bash will now be held at the HotelLumiére starting at 6:00pm.

When: Wednesday, May 17th
Time: 6:00pm
Where: Lumiére Theatre located in HotelLumiére

HotelLumiére
999 N 2nd St
St Louis, MO 63102
(314) 881-7777

Come one, come all. Seating is unlimited. Register today!
https://fabshopstore.com/products/membership-dinner-spring-2017
Directions from the Drury Inn & Suites Convention Center:

Directions from America's Center Convention Complex:

---

Drury Inn & Suites St. Louis Convention Center
711 N Broadway
St. Louis, MO 63102
Telephone: (314) 231-8100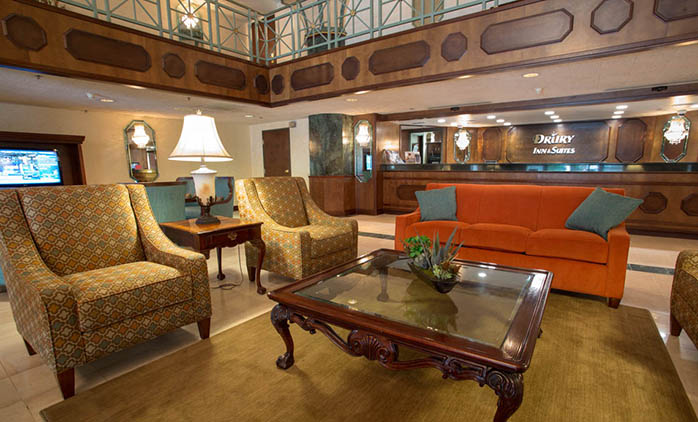 Room Options: King, 2 Queen Beds, or 2 Room Suite 1 Queen Bed

Single Rate: $149
Double Rate: $149
Triple Rate: $159
Quad Rate: $169

Room Rate includes the following for overnight guests:

Hot Breakfast - Including Belgian waffles, fruit, biscuits & gravy, sausage and more.

5:30 KICKBACK - Each evening from 5:30-7:00pm kick back, relax and enjoy
free hot food and cold beverages*.
Free Long Distance - One hour every room every night.
Wireless Internet Access.
Soda and Popcorn from 3:00-10:00pm every night in the lobby.
On-Site Restaurant: J.F. Sanfilippo's, Italian Kitchen & Bar.

...................................................

Group Name:
The Fabric Shop Network

Online Reservation Link:
http://www.druryhotels.com/Reservations.aspx?groupno=2295297

Reserve by Phone:
(800) 325-0720 and refer to group number 2295297

Cut-Off Date:
Friday, April 28, 2017

...................................................

***Hotel rates quoted above are per room, per night, and are subject to applicable taxes.If you take advantage of the block of rooms, when you call reservations you must mention The Fabric Shop Newtork Group Number 2295297 and the block of room dates 5/16-5/21, otherwise the hotel will charge you a higher rate. Individual reservations must be cancelled prior to 12:00pm on the confirmed date of arrival in order to avoid a fee equal to one night's room rate plus tax. Kickback Sessions: Alcoholic beverages are not complimentary.