The FabShop Retailers' Association is an Association that represents hundreds independent fabric and quilt retailers throughout the United States and Canada. Members enjoy programs and services to help reduce operating expenses and offer combined purchasing power.
FabShop News Magazine: Your membership includes a free subscription to our bi-monthly publication, FabShop News. Members tell us they read the magazine cover to cover for its timely, industry-specific content and advertisements featuring new products from key suppliers.
Phone Consultation: As a new member, you are entitled to a free 30-minute telephone consultation with Laurie Harsh. You can use it to receive problem-solving advice on a pressing issue from an experienced fabric retailer. This half-hour could be worth much more than the cost of your membership. Also ask about a custom-designed consulting program for your shop.
FabShop Forum and FabShop Chat: Storefront (Forum), e-tailers, and design studios (Chat) shopowners* can connect with other members in our private, email digests and Facebook secret groups. Ask and answer questions about every area of your business, discuss the nuts and bolts of our industry, share ideas, and offer support to colleagues around the world. Members consistently rave that this is one of their favorite and most valuable benefits of belonging to FabShop.
*New Shop Owners: Your shop must be open and retailing to the public in order to be connected to or participate in the on-line forum.
FabShop Market Kick-Off Dinner:
Meet fellow shopowners from across the country at special events held prior to the opening of Spring and Fall International Quilt Markets. Learn about new programs as they are developed. See new products from vendors before you hit the floor. Always a fun and informative time.
Marketing and Advertising Opportunities
Our Marketing Programs generate exposure and revenue for your shop.
FabShop Hops: If you have a website, you are eligible to participate in our online shop hops. For a modest registration fee, you can showcase yourwebsite andproducts to thousands ofshoppers who are looking for what you have to offer during our month-long hops scheduled throughout the year.
The FabShop Hop is the premiere virtual shopping experience in this industry and is an easy way for you to reach existing and new customers.
FabShop Clubs, Classes, and One-Day Events: FabShop Club programs are designed by shopowners for shopowners. Each program is a one-time investment with FREE-to-reproduce patterns and projects, marketing tools, and promotional ideas.
FabShop FabSearch: Focusing on the product search itself, this service makes it easy for thousands of customers to locate and purchase from your inventory.
Join the largest selection of shops and products on the web and get the power of online search technology at a fraction of what you might expect to pay. The search function allows potential customers to look for specific products (with graphics) as well as perform a more general search through newsletters, class information, and product listing, or to add their email requests to a digest for your review and reply.
BlowOut Sales!: Enhance your business and m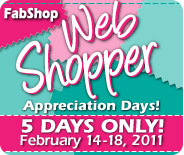 ove merchandise through your website with this effective sales tool. These special sales take place once each quarter and are promoted to our list of 100,000 targeted retail customers. Here's your opportunity to sell slow-movers and drive new customers to your website.
Advertising: There are several ways to advertise through The Fabric Shop Network, Inc.
If you produce and sell your own line of patterns or quilting/sewing-related products, or would like to promote your business to retailers; consider advertising in the FabShop News magazine or on fabshopnet.com. Call for advertising rates and details.
As a FabShop Retailers' Association member, you can purchase advertising space on fabtalk.net or fabshophop.com. Choose from four rotating banner-ad sizes to drive business to your website.
You can target over 30,000 opt-in email subscribers. Email recipients have given us the okay to send them email from you. Your message is the only one that will appear in the mailing. You can send your messages in plain text, HTML, or AOL formats. Choose from three separate promotional, opt-in email lists. Call or check our website for more details.
Discount Programs to Reduce
Operating Expense
The following programs are designed to help you save money.
Freight/Shopping Savings:
As a U.S. or Canadian member of FabShop, you can benefit from our existing relationship with UPS. Through this partnership, you have exclusive access to the UPS Savings Program which offers great savings on Domestic Air, Domestic Ground Commercial and Residential (inbound and outbound), and International Export and Import. By enrolling in the UPS Savings Program, you can save up to 32% on services. Click here to enroll today!


Group Insurance: A broad range of group insurance programs are available, including:
Business Insurance programs, including liability, property coverage, loss of business and extra expense coverage, crime coverage, and additional options.
Workers' Compensation Insurance, including a dividend plan for businesses with a three-year-in-business record and 50 or fewer employees.
Merchant Credit Card Processing. This service is available to members at a competitive rate for swiped and non-swiped transactions. There are programs for retail and mail order operations. Compatible equipment is also available for purchase.
Web services for members include:
Online newsletter mailing services: Send your email newsletter to your entire list the easy way for a low monthly fee.
Web hosting and secure shopping cart system through Quiltropolis for a special low fee.
Website design services. Our in-house Web designer is ready to help you create, update, or redesign an effective, sales-generating website for your business.
Two-Day Seminar to Improve Profitability and Financial Control: Held twice each year, this two-day seminar teaches in clear, layman's language the proven tolls and techniques of financial management to maximum profits and cash flow with less risk.
Designed for business owners, entrepreneurs, managers, and others who affect financial performance, this seminar stresses practical applications and problem solving. Through the use of case studies, owners and managers analyze actual business situations and find useful solutions to common problems. Best of all, you'll be able to use these tools in your business right away.
TeleClasses: A simple phone call connects you with a new realm of learning and information without the inconvenience, time, or expense of traveling to a central site to attend class. You can call from your office, home, or anywhere with access to a telephone. You merely dial the "teleconference number" for the class and are automatically connected with up to 20 other callers. TeleClasses are a fun, simple, and hassle-free way to experience distance learning.
Discounts from Industry Suppliers
A select group of suppliers offer our membership special pricing on their products.
You can also take advantage of special discounts on financial software offered by the following vendors:
2016 QuickBooks Discounts - all discounts are off MSRP - Save Time & Get Organized!